Membership Information
Membership Fee: Ages 6 - 18 ($50 per year)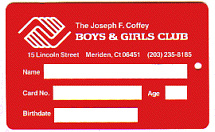 Memberships are good for one calendar year from the date a child joins.
There is a sliding fee schedule for those that meet income guidelines.
Being a member of the Club allows boys and girls to particiapate in a wide range of activities that include the following:
...and many other programs at no additional cost.
Members can also join teams and compete in formal leagues and clinics in Basketball, Soccer, Volleyball, Indoor Soccer, Archery, and Lacrosse, for an additional fee.