Archery Camp in Meriden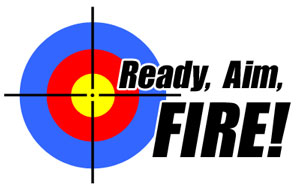 Do you like the shooting sports? Do we have a camp for you!
Ready, Aim, FIRE! is held at our outdoor summer camp property in Meriden, CT. All week long, youth will compete on teams in archery, air rifle, and other projectile firing devices like rubber band and squirt guns. Many of the targets will be unique, fun and challenging. In addition to the shooting challenges, a dose of trivia is added to challenge your brain.
Ready, Aim, FIRE! is run under the direction of Dominic Pereyo, a Level II US Archery Coach and a NRA Cerified Rifle Instructor. Dominic has been teaching both archery and air rifle at the camp for over 20 years.
Participants must have taken an archery beginner's lesson prior to participating.
Summer 2021 Camp Session:
August 2-6, 2020
9:00 AM - 4:00 PM
$195 per camper.
Questions can be directed to Dominic Pereyo at 203-235-8185.