A Brief History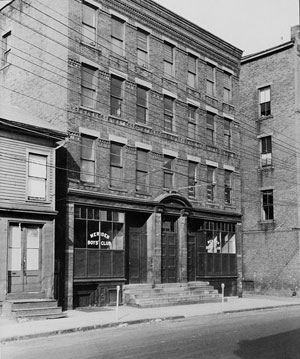 The Meriden Boys' Club originated in a single room in Turner Hall on Colony Street with little more than a stove for warmth, a small library, and a few scattered tables and benches. Activities were relatively limited in scope, and included "parlor "games like Charades, Blind Man's Bluff and Twenty Questions. Mr. W. H. Catlin was the man who started it all, establishing a club on March 27, 1888, making Meriden one of the very first Clubs in the entire country.
In 1906 the Club became a charter member of Boys' Clubs of America. The Club moved a lot back then, until 1911, when it took up residency on Veteran Street, which would be its home for the next half century.
Over time, the Club became a haven for team sports, arts and crafts, boxing, woodworking, recreation, sports and, perhaps most importantly, friendship, camaraderie, and fellowship.
Joe Coffey took over as acting Executive Director in 1939 when then Director, Tex Diller, went to join the fight in World War II. This arrangement became permanent in 1947, when Colonel Diller officially retired from the Club. The Club helped the war effort as well, creating a corps of young helpers called the "Victory Volunteers", collecting tin, rubber and newspapers to help America become victorious.
Word was starting to build, and boys kept showing up looking for fun and guidance. That rapidly expanding membership soon outgrew the Veteran Street building, which, by 1954, was already nearly a century old.
In response, plans were drawn up for a new building that could accommodate our ever growing membership. Architect William H. MacKay, a Meriden resident, designed the new and expanded Clubhouse to offer the children of the area a beautiful, modern, two-story structure that was also designed to be functional, and was located centrally in downtown Meriden on Lincoln Street. Opening in 1955, it boasted the latest in gymnasium equipment and offered members a basketball court, showers and locker rooms, a library, a combination rifle and archery range, a woodworking shop, and two large, well-stocked activity rooms.
The Boys Club's Cuno Camp was established in 1923 as a result of the creation of the Cuno Family Trust Fund. The Camp, originally an overnight camp located in Warren, Connecticut, was sold in 1949. Cuno Camp was then held on property in the Stoddard Drive area (across from Lincoln Middle School) and was converted from an overnight camp into a day camp, until finding its current home on the west side of Beaver Pond in Meriden. The property had formerly been part of the Sambone family farm until it was sold to the Club in 1962 and has served hundreds of campers every summer ever since.
The Club continued to serve the young men of the area, including movie nights (32 shown in 1957, down from the previous years due to television's growing popularity), boxing (Joe Coffey was known for getting the boys to solve their disputes like gentlemen) and bowling (the alley was portable).
Joe Coffey would lead the Club until 1975. Upon his retirement, and in honor of his years of dedicated service the Club was rededicated and renamed as "The Joseph F. Coffey Boys Club".
In 1976 then assistant director Gary "Tex" Burt was hired as executive director when Joe Coffey retired. Tex faced his first big challenge later that same year when Cuno Camp's Beaver Pond was deemed unsafe for swimming due to high bacteria counts. An alternate swimming spot had to be found. Thankfully, the Groth family, owners of Moutainside Outing Club, came to the Club's rescue and bussed all of Cuno's campers to their facility each morning for its members to swim and utilize their ample outdoor recreational amenities. In 1985 the Club completed a dedicated capital campaign for the addition of a large, in-ground swimming pool to Cuno Camp.
The Club celebrated its 100th Anniversary in 1988, a major milestone recognized by leaders from across the state and from across the nation.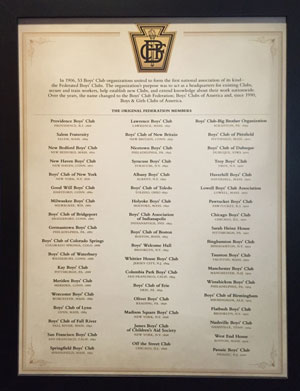 In 1999, the Boys and Girls Club of Meriden's leadership determined that it must grow to fulfill the varied needs of a growing population. A fundraising campaign was established to build an addition that would double the size of the Club, adding on a full sized gym, a teen center, a snack bar, and additional locker room and shower facilities. A Tech Lab with a number of computers was established, helping our members with emerging technology, and getting them ready for the 21st Century.
The project was completed in July of 2000, with the additional 16,000 square feet to serve not only boys, but all youth. So The Meriden Boys Club officially became the Boys & Girls Club of Meriden.
An era came to an end in 2005, when Tex Burt, executive director for 30 years, retired. Don Maleto assumed the post until moving on to run the Connecticut Alliance of Boys and Girls Clubs. During that time, the Club began a significant expansion of the Cuno Camp facilities, erecting covered pavilions, a challenge course and other significant amenities designed to create the perfect camp experience.
In 2013, the Club welcomed Castle Bank founder Larry McGoldrick as the new Executive Director, a post he held unitl retiring at the end of 2019.
Larue Graham has been selected as the Club's new director starting in 2020.
Looking Forward to the Future
Over the last 130+ years, the Club has provided a safe and positive place for tens of thousands of youth, created friendships that would last lifetimes and become part of the critical infrastructure of the City of Meriden. We are proud to be leaders in the field of youth development and look forward to serving the children of the area for many years to come.
We thank all of the staff, the many supporters and the volunteers, current and former, that have worked so hard for so long to create a place where Great Futures Start.