Cuno Camp Information
Located on the Berlin/Meriden line, Cuno Camp is an outdoor day camp for youth ages 6-14. The camp property abuts the west side of Beaver's Pond. Cuno Camp features an in-ground pool, 3 pavilions, 2 basketball courts, a large field, a challenge course, archery range, waterfront, dock, and an arts & crafts area.
Cuno Camp offers swimming, arts & crafts, archery, kayaking, nature programs, games, team work exercises, special events, and much, much more. Cuno Camp is a 10 week fun filled camp experience every child will fondly remember. We are accepting registrations for all weeks now.
Cuno Camp 2022:
Week one: 6/13/22 – 6/17/22
Week two:

6/20/22 – 6/24/22
Week three:

6/27/22 – 7/1/22
Week four:

7/5/22 – 7/8/2022
Week five:

7/11/22 – 7/15/22
Week six:

7/18/22 – 7/22/22
Week seven:

7/25/22 – 7/29/22
Week eight:

8/1/22 – 8/5/22
Week nine:

8/8/22 – 8/12/22
Week ten:

8/15/22 – 8/19/22
Click below to Create an Account and Register for Camp.
See Photos of Camp Register for Camp
AM & PM Care
AM Care is available every week from 7 AM to 9 AM. ($25 per child, per week)
PM Care is available every week from the end of camp until 6 PM. ($25 per child, per week)
Both AM and PM Care are held at the Boys & Girls Club. Enrolled youth must be brought to and/or picked up at the Boys & Girls Club. Children in AM/PM Care will get transportation to and from camp. The bus will arrive with the children at camp around 8:50 and depart around 4:00.
Need Financial Assistance?
Apply for support through Care4Kids
Forms Needed for Summer Camp
Financial Aid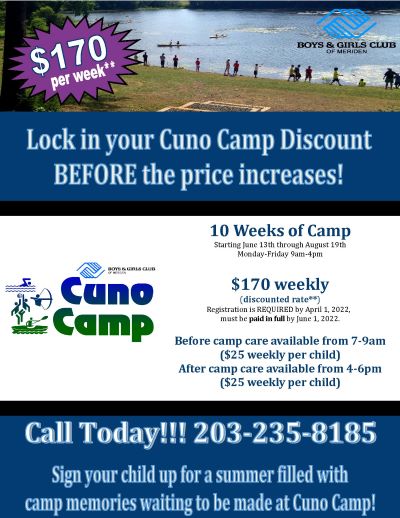 May be available upon request. There is no financial aid available for AM and/or PM Care services. For other financial aid opportunities, please consider applying for Connecticut Care 4 Kids and The Summer Campership Fund for Meriden and Wallingford. To apply for financial aid, please contact the Boys & Girls Club of Meriden at 203-235-8185.
Financial aid will be reviewed and distributed on a first come, first served basis.