About the Boys & Girls Club of Meriden
A Positive Place for Kids!
Our Mission
To enable all young people, especially those who need us most, to reach their full potential as productive, caring, responsible citizens.
A Boys & Girls Club Provides:
A safe place to learn and grow
Ongoing relationships with caring, adult professionals
Life-enhancing programs and character development experiences
Hope and opportunity
Three key characteristics define the essence of the Boys & Girls Club of Meriden. All are critical in exerting positive impact on the life of a child:
Dedicated Youth Facility
The Boys & Girls Club is a place – an actual neighborhood-based building – designed solely for youth programs and activities.
Professional Staff
Every Club has full-time, trained youth development professionals, serving as positive role models and mentors. Volunteers provide key supplementary support.
Available and Affordable to All Youth
Clubs reach out to kids who cannot afford, or may lack access to, other community programs at a low cost.
---
Hours
Office Hours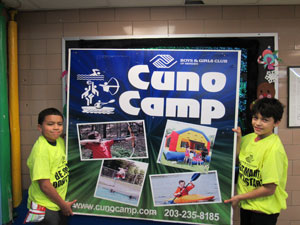 Monday - Friday: 12:00 PM to 7:00 PM
Activities Hours
Monday - Friday: 2:30 PM to 7 PM
Thursdays*: Club opens at 1:30 PM
Scheduled 1/2 Days: Club opens at 1:30 PM
Weather Cancellations
The Boys & Girls Club Afterschool Program will be closed if schools are closed due to inclement weather. In the case of a basketball, lacrosse or volleyball, your coach will contact you if their game/practice is NOT going to take place. For the most up to date information regarding cancellations, follow us on Social Media @bgcmeriden on Instagram and Facebook.