Preschool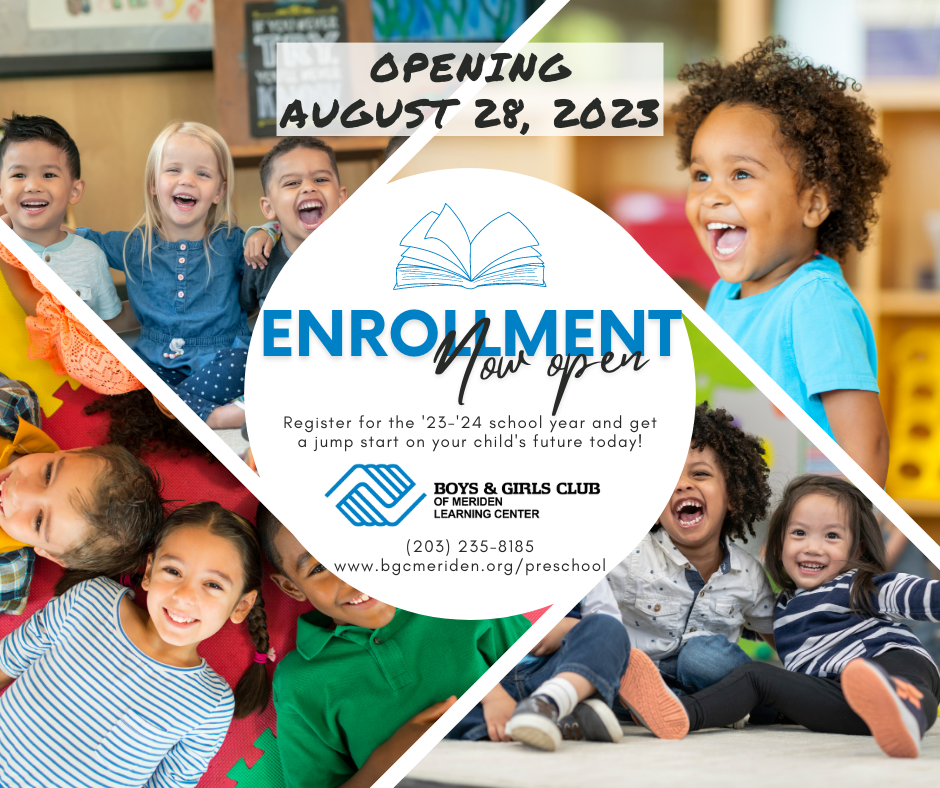 The Learning Center offers an enriching preschool program at the Boys & Girls Club of Meriden for children ages 3-5 that promotes positive relationships among all children and adults.
Great futures start with a solid foundation in learning. Let your child's education begin at Boys & Girls Club of Meriden's Learning Center. The preschool program at the Learning Center is whole child based where preschoolers learn and grow through educational programs used in the Meriden Public Schools to teach phonemic awareness, literacy, and mathematical skills in addition to play-based learning through art, music & movement, dramatic play, and age-appropriate STEAM programs.
The experienced, knowledgeable and caring staff at the Learning Center will support your child's growth not just academically, but socially and emotionally as well. We believe parents are a child's first teacher and here at Boys & Girls Club of Meriden, we strive to support parents in educating and caring for their children from preschool through high school graduation.
Activities
Boys & Girls Club of Meriden's Learning Center is a year round full day preschool program.
During the school year, your child will experience an engaging and exciting academically enriching curriculum. Heating up for the summer months, Camp BGC is in full swing and your child will splash into camp style days filled with fun and learning.
Preschoolers enrolled in the Learning Center have the year round opportunity to experience:
Art
Sensory Tables
Things That "GO"
Music & Movement
Library Center
Nature & science
Dramatic Play
STEAM
Blocks
Your child will also experience Fine Motor Development through Manipulatives Gross Motor Development on our unique and engaging Urban Playground.
Enroll today!
Call or email Learning Center Director Susan Herget to learn more, schedule a tour, and enroll:
(203) 235-8185
sherget@bgcmeriden.org
---
Meet the Learning Center Director
Information
Located at 15 Lincoln Street, Meriden CT. 06451
Hours:

Monday - Friday, 7:00AM - 5:30PM
Please contact us for our weekly rate at (203) 235-8185
Care-4-Kids accepted