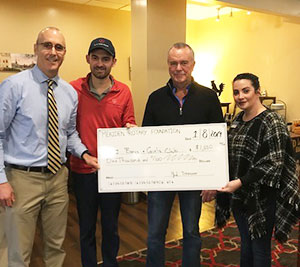 On Tuesday, January 8th, the Meriden Rotary Club presented a check to Larry McGoldrick, executive director of the Boys & Girls Club of Meriden. The check represented a portion of the profits raised from the Rotary Club's Hoopin' It Up 3 on 3 basketball tournament for kids ages 16 and under.
The tournament was held on October 20th and the Boys & Girls Club played host to the event. Several Boys & Girls Club members formed teams and participated in the tournament.
"Larry and the Boys & Girls Club were a great facilities partner for this event," noted Tom Barton, a member of the Meriden Rotary Club, owner of Web Solutions, Inc. and one of the organizers of the tournament. "We wanted to show our appreciation by donating some of our event proceeds to the Club and we look forward to working with them for the tournament in 2019."
Kristilee LaHaye, Meriden Rotary Club president, also participated in the check presentation ceremony. Rotary made a donation of $1,000 and Web Solutions presented the Club with an additional $500. Thank you to all who participated and made Hoopin' It Up a great event!
---