Arts
These initiatives help young people enhance self-expression and creativity, develop multicultural appreciation, and develop skills in crafts, and visual, performing, and literary arts. For more information or to register for these programs, please go to our Parent Portal.
Art Club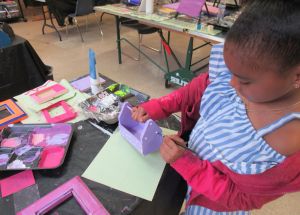 Members participate in a variety of fun and challenging arts projects. Kids will work with many different materials that will enhance the imagination and encourage creativity. Most projects will take one session to complete.
Woodcrafts
This drop-in program is an introductory woodworking class. Members learn to use hand tools to cut, file, and shape wood into animal-, fantasy-, and sports-themed wood projects. Students then learn how to prepare for and paint their projects. Projects take 2-4 weeks to complete.