Robotics Programs
Robotics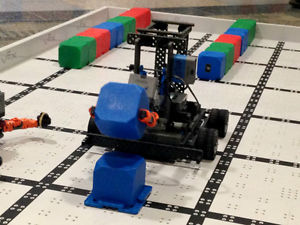 The Club offers three Robotics Programs. All three use the VEX IQ Robotics System (similar to LEGO) which offers both autonomous and driver control options. The robots are built by the students and then modified to suit the needs of the challenge presented to them.
After School Enrichment
Our after school program teaches students mechanical design concepts like stress, load, and gear ratios. Youth work in groups building, modifiying and experimenting with their robot trying to come up with the best design. Once designs the robot designs are completed the groups will compete against each other to see whose design is the best at completing the assigned task. Thoise that show a serious interest may be invited to attend a local tournament with the Robotics Team.
Robotics Summer Camp
For one week during August campers learn about, build and compete with robots in various challenges! Both the current game and past year's games are used throughout the week as youth design and build robots to compete against each other. Robots will be assigned to groups of 2 or 3 youth with the goal of coming up with the best design to compete in a tournament on Friday afternoon.
Robotics Team
During the late fall and winter months youth will work to build robots to compete in the current VEX IQ Challenge. Youth will learn basic engineering and coding concepts as they try come up with the best design for the current challenge. Engineering and programming concepts will be covered as the team prepares their robots. During the season the team will attend a minimum of 2 tournaments with the hopoe of qualifying for the state championship.
For further information about our Robotics Programs please contact Dominic @ 203-235-8185,