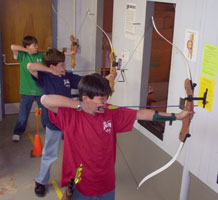 Have your child and their friends learn to shoot archery for his or her next birthday! For $125 your child and up to 5 of their friends will learn to shoot and have to opportunity to win some prizes while playing some archery games.
2 hours Archery Birthday Parties - $125 for up to 6 kids. $20 each additional child.
Use of the Club for the cake and gift portions of the party can be arranged for an additional fee.
For further information contact Dominic at 203-235-8185.
Cake and other refreshments not provided.
---